What is the 4+1 MSFRM Program?
The 4+1 MS in Financial Risk Management Program gives UConn undergraduates the ability to complete a Bachelor's and Master's degree in five years.  UConn undergraduates that pursue a 4+1 MSFRM degree will receive the same education and experience in 12 months as those in the traditional 15-month MSFRM program.
What are the pre-requisites to apply to the 4+1 MSFRM Program?
3.0 minimum cumulative GPA *a 3.0GPA or higher in relevant majors waives GMAT/GRE for students
54 credits completed
UConn Business, STEM, or other related major
What are the advantages of the the 4+1 MSFRM Program?
Reduced course load: 3 courses waived

Reduced cost

Specialized Master from a Research I, AACSB Accredited School of Business

Starting salary around 94K vs 65K

Specialized Career Support through our Risk Management Career Advisors

Additional Workshops on important and current topics

Engaged Alumni base
Are there scholarships available?
The MSFRM Scholarship committee offers a number of financial awards to admitted students.
4+1 MS in Financial Risk Management Track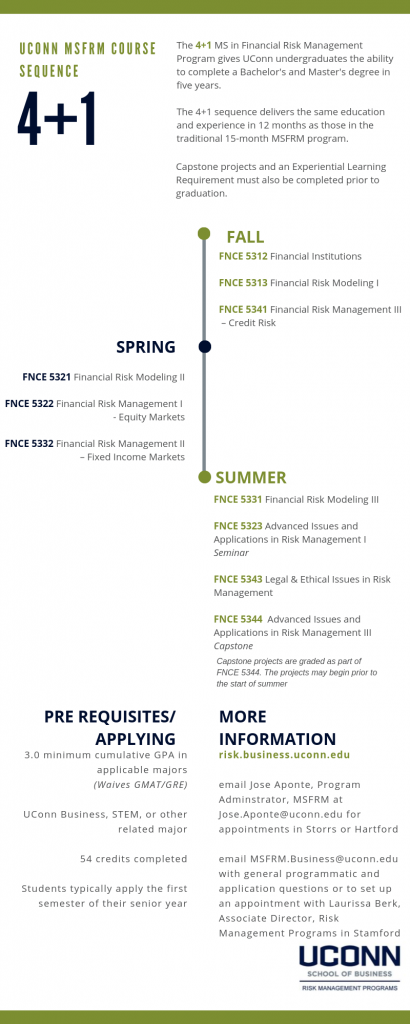 Questions?

If you would like more information or have any questions please contact:
Appointments in Storrs or Hartford: 
Appointments in Stamford:
Jose Aponte
Laurissa Berk
(860)728-2447
(203)251-8476
Program Administrator
Associate Director
Risk Management Programs
Risk Management Programs
UConn School of Business
UConn School of Business
4+1 MS in Financial Risk Management
A real-world approach to risk management theory