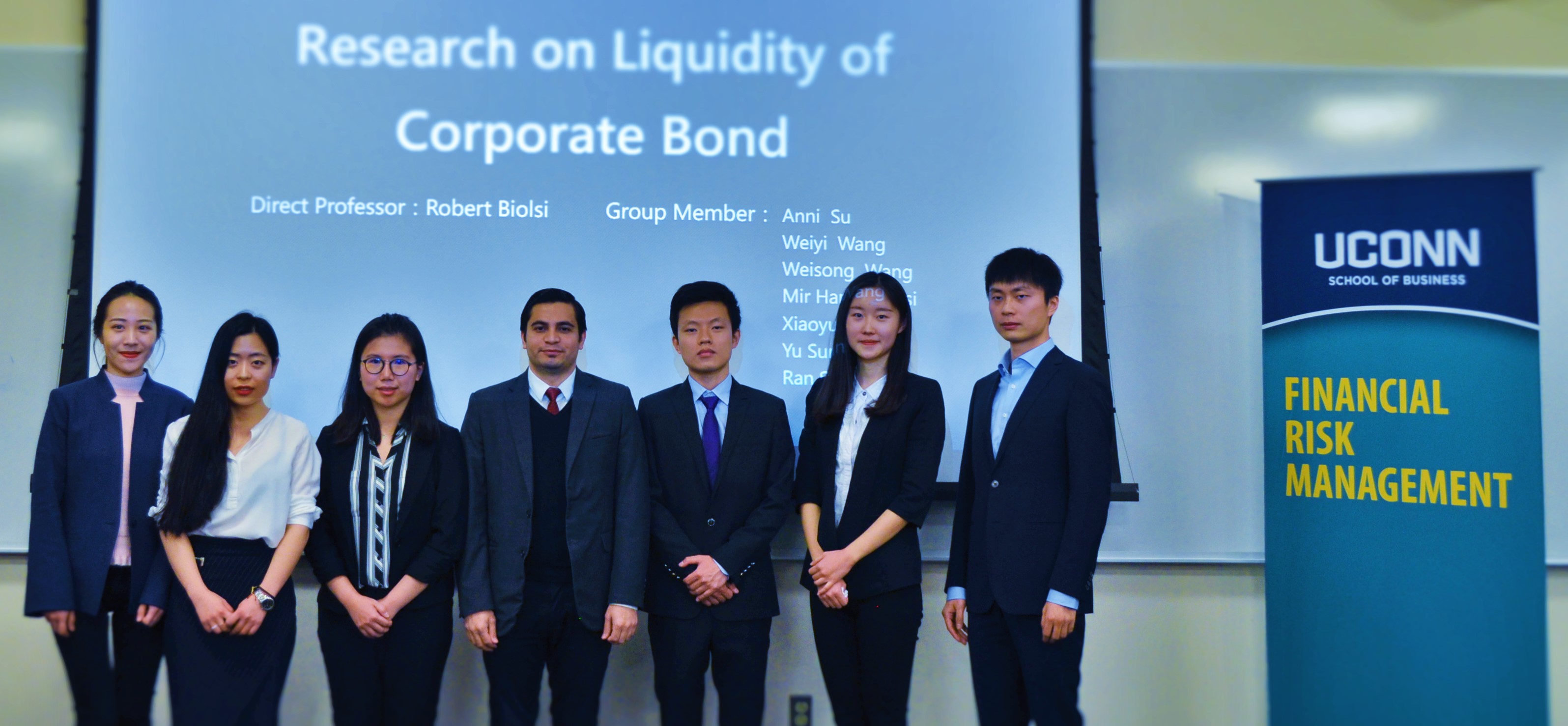 Each student in the MSFRM Program must complete a Capstone Project and an Experiential Learning Requirement (ELR). These are the two most important ways the Program delivers on the "Real World Approach to Risk Management Theory."
Capstone Group Projects
Capstone Group projects are graded as part of FNCE 5344 and run like a consulting job. More information is below:
Capstone Group Projects
Capstone Group Projects
Participation in a company-sponsored risk management project that has been approved by Program Staff. Submission of a final report to the Program Staff is required and must be approved by the Program Director or his designate.
The Capstone Project runs like a consulting job. The MSFRM Program receives projects from many companies in a variety of sectors. These projects are challenging and provide a tangible link between academic learning and their applications in the business world. Through these projects, students gain exposure to real risk management situations and challenges that company executives and corporations encounter. Students enhance their presentation skills through face-to-face personal dealings with practitioners in the field of risk management.
Students join a team and designate a team lead. Advisors and a contact within the projects respective companies are appointed to each team. Students setup tollgates with their company contact and present their results and findings to their company at the end of their second Fall semester.
Below is the list of companies that submitted projects in 2017:
Hartford HealthCare
State of Connecticut
Ernst & Young - China
UConn Foundation
Morgan Stanley
Stutland Option Group
CME Group
Synchrony Financial
Wylan Energy
Echo Bay Partners
Tradeweb
Experiential Learning Requirement
There are many mutually exclusive ways for a student to complete the ELR, as noted in the student options below:
Internship
Either a full-time or a part-time, paid or unpaid internship with a Program Staff approved company or organization. This requires a completed application that indicates risk management-related responsibilities/tasks, and that must be approved by Program Staff.
Note: International students will need practical training authorization and must contact UConn Immigration Services in Storrs for further information.
Financial Risk Competitions
(as approved by the Finance Department Head)
Students may participate in competitions throughout their time in the program. Competitions are a great way to learn real world applications of risk management. Students are proud to represent UConn and our program.
Students have participated in the following competitions:
Rotman International Trading Competition
Chicago Quantitative Alliance Challenge
Professional Risk Managers International Association Risk Management Challenge
Individual Student Project
Similar to the Group Student Project, but without project co-workers, this company-sponsored project requires a proposal be submitted to the Program Staff for approval prior to project work starting and a final report that must be approved by Program Staff.
Global Research Paper
Similar to the Individual Student Project option, this Research Paper requires a proposal to be submitted to the Program Staff for approval prior to work starting, and then the final submission to be approved by the Program Staff. Unlike the Individual Student Project, however, this Research Paper will not be focused on a company-sponsored topic but rather on a global risk management topic of the student's choosing.  Examples of topics include Risks Inherent in Business Expansion into a (specific) Foreign Country and Risks of Conducting Business in a (specific) Foreign Country.