We are pleased to offer the MSFRM program in two locations, Stamford and Hartford.  In addition to our MS in Financial Risk Management Program, we also offer an online Certificate in Global Risk Management.
Stamford
UConn's Stamford campus is located directly downtown. Fairfield County, Connecticut  is known worldwide for being home to many of the worlds largest hedge funds.  Companies such as UBS, RBS, IBM, GE and Bridgewater reside in the area. This program will advantageously benefit the large concentration of hedge fund managers in Fairfield County and surrounding areas.  Stamford, with its vibrant business community is also a very short train ride into New York City. The Stamford location provides easy access to internships, field placements and jobs with Fortune 500 companies, Hedge Funds and other organizations. Students on this campus are able to take advantage of the wonderful restaurants, parks, shopping and nightlife that Stamford has to offer. Stamford is a quick train right to New York City. Students here enjoy exploring Manhattan and all it has to offer. To learn more about Stamford, CT, go to http://stamford-downtown.com/
The Stamford program will benefit managers involved in the definition, specification, measurement, pricing, and mitigation of credit risk, interest rate risk, currency risk, overall market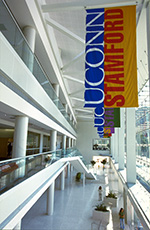 risk, and operational risk in financial asset management. Those aspiring to enter the money management profession in pursuit of long-term careers will also benefit from the program, as well as professionals already engaged in wealth management, arbitrage strategies, restructuring and combinations, and alternative investments.
Hartford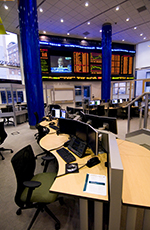 The UConn Graduate Business Learning Center is conveniently located in the heart of downtown Hartford. Hartford is the capital of the State of Connecticut, and the headquarter city of several large multinational Insurance companies, and also several large manufacturing firms. Our downtown campus affords students the opportunity to network, intern, and work in Hartford, the insurance capital of the world, and home to other Fortune 500 companies.
Hartford is nearly equidistant to both Boston and New York City, so students enjoy the opportunity to participate in conferences and other events at these 2 major financial cities. Students are also able to enjoy the Storrs Campus, just a short distance away. For more information on Hartford, please visit https://hartford.com/
Online
The Certificate in Global Risk Management is an online graduate-level certificate program.  This 12 credit Certificate program is run in an accelerated format ( four 7-week online courses) and allows working professionals to complete the certificate from home.
For more information, please visit the Certificate in Global Risk Management site.