The Certificate in Global Risk Management is an online graduate-level certificate program designed for working professionals, especially those looking to advance their careers or for career changers, and recent graduates interested in obtaining a certificate to validate their skills and commitment to the highest standard of professionalism and best practices within the risk management profession.
Program Information
Start Term
Spring 2018
Location
Online
Length

7-Week Online Courses

2 Courses (3 credits each)

Back-to-back per semester

 

Program Completion 

4 Courses (12 credits) - 2 semesters

Fees
$1266 per credit
Learning Objectives
Acquire an understanding of market, credit and operational risk, as well as risk management frameworks and structures and the ability to apply these principles effectively in decision making.
Develop the ability to identify, research and analyze risk management issues.
Learn to use technology and tools appropriate to risk management.
Master the knowledge and awareness necessary to successfully pursue an MS in Financial Risk Management program.
Participants in the Certificate of Global Risk Management are able to complete the certificate program in 2 semesters.
The certificate courses are accelerated 7-week online courses offered back-to-back with 2 courses each semester.
For more information regarding schedule, please reference the calendar below.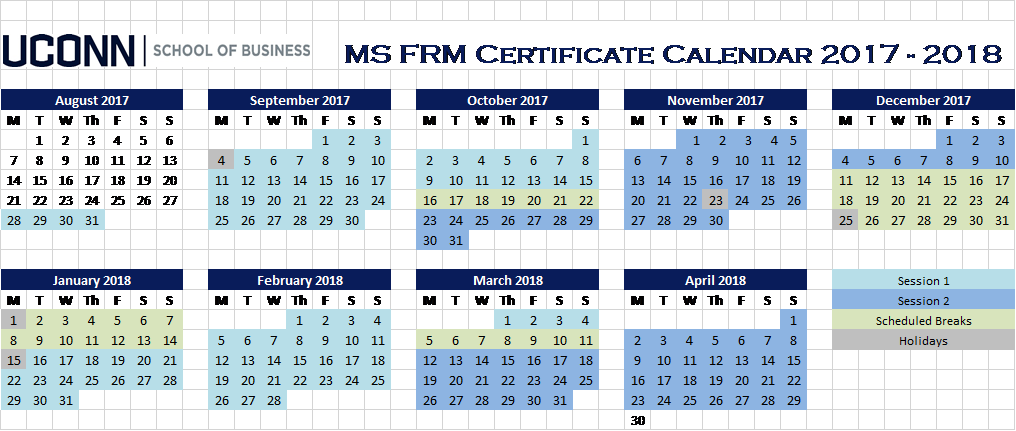 Application
Applications to the Certificate in Global Risk Management Program are taken online only. In addition to application questions, applicants must upload a short-answer essay.  Applicants need to provide a current resume, two Letters of  Recommendation, and transcripts from all universities they have attended. There is no application fee or deposit fee for the certificate program.
If you have any questions or need any more information, please contact Cheri Dondero.