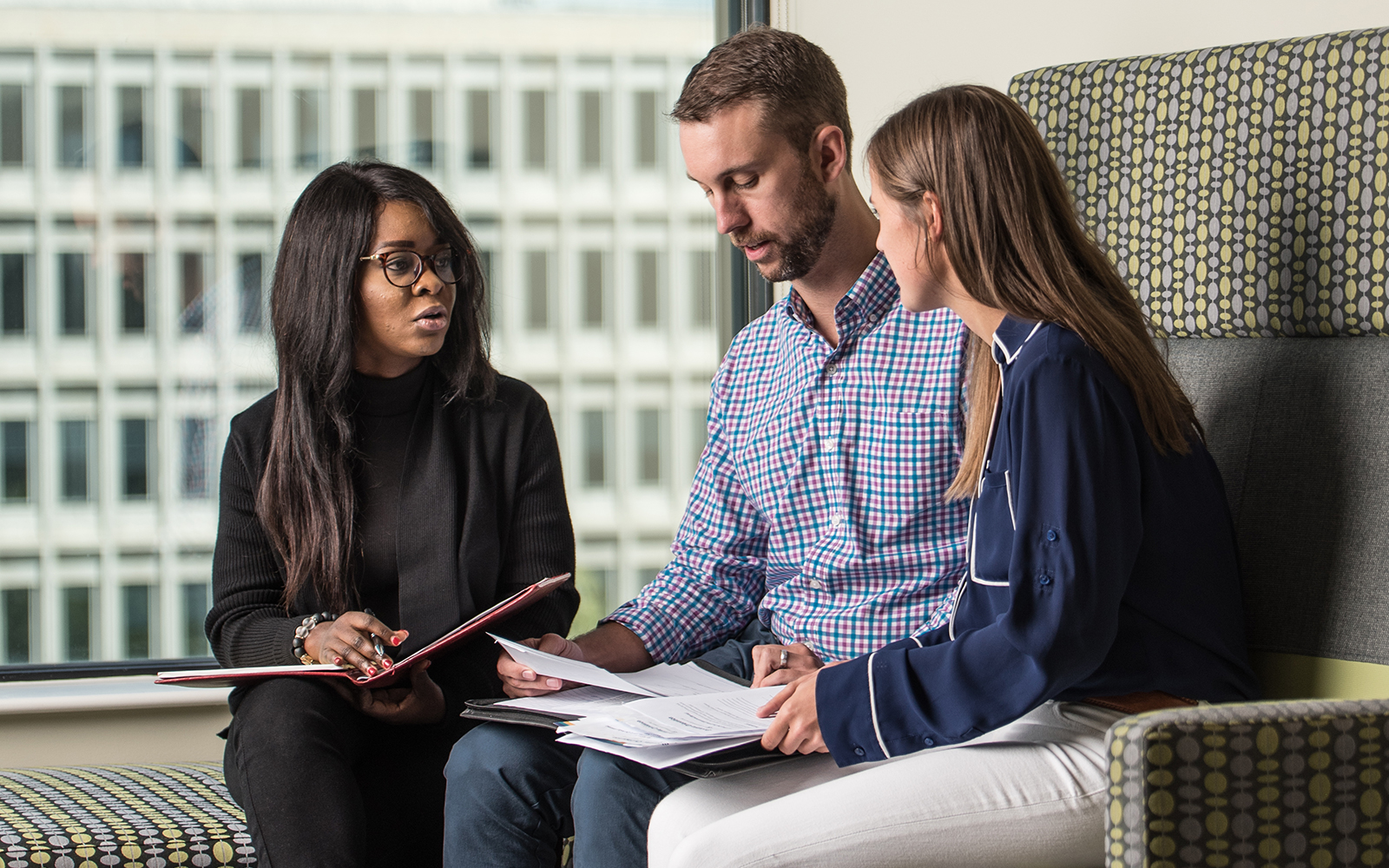 A Real-World Approach to Risk Management Theory
In the midst of the 2008 financial crisis, we asked various C-suite professionals, "What is your next greatest need?" The unanimous reply: trained professionals who could foresee and manage the risks associated with their firms. In response, the finance department, in coordination with a Board of Advisors to represent industry needs, created the Master's in Financial Risk Management (MSFRM). A STEM-designated program, the MSFRM is designed to teach students how to identify, mitigate, and manage various types of financial and operational risk.
MSFRM Program
The MSFRM program provides a unique blend of theory and practice, designed for current/future financial professionals who will develop and direct investment strategies and/or manage the financial risk of firms, institutions, and private clients. The theoretical component is analytical and quantitative, and supported by a rich blend of practical application which culminates in capstone projects assigned to students. The overall curriculum is evaluated annually to include relevant and emerging topics, garnering input from faculty, professionals and our Board of Advisors.
Advantages of the Fast-Track 4+1 Program
The 4+1 Master of Science in Financial Risk Management (MSFRM) is designed for current UConn undergraduate students who want to fast-track their career by earning both their Bachelor's and Master's degrees in just 5 years. Students receive the same education and experience as those in the traditional MSFRM program, but are able to finish a semester earlier. Advantages of the 4+1 MSFRM include:
Professionals in the Classroom
Tapping into the insights and perspectives of those practicing risk management, faculty teaching is augmented by experienced professionals who bring their knowledge and rea30l-life experiences to the classroom. This unique blend of theory and practical application gives the MSFRM program meaningful value and appeal to your workplace and in career advancement.
GARP Affiliation
UConn's MSFRM Program is affiliated with the Global Association of Risk Professionals (GARP), has contact with Stamford, Connecticut's GARP Professional Chapter, and is one of only 50 schools worldwide with a University GARP Chapter. MSFRM graduates are prepared to take the GARP Financial Risk Management (FRM®) Exam.
Study in Hartford or Stamford
Whether you choose to study in Hartford or Stamford, the Fast-Track 4+1 MSFRM Program offers the flexibility of multiple locations with the advantages of both. Hartford classes are held at UConn's Graduate Business Learning Center (GBLC), located in the heart of downtown Hartford, also known as the "Insurance Capital of the World." Stamford classes are located at UConn's modern urban campus within Stamford's central business district, conveniently located right outside of NYC and home to some of the largest hedge funds in the world.
Other benefits include:
Master's degree from a Research 1, AACSB-accredited School of Business
2 graduate courses waived
Reduced cost compared to traditional MSFRM
No additional undergraduate courses
Program language learning workshops
Scholarships available
Program-specific career services & corporate outreach specialists
Alumni networking opportunities
$94K average starting salary
Who Should Apply
University of Connecticut undergraduate students, at all campuses, are welcome to apply to the MSFRM 4+1 Program. This program is only open to students currently enrolled at UConn campuses. This is a highly quantitative program recommended for students majoring in finance, financial management, actuarial sciences, mathematics, statistics, economics, engineering, or other business and STEM majors.
Deadlines
Applications open in September. 4+1 MSFRM students are encouraged to apply as early as possible during the first semester of their senior year. For final application deadline, please refer to grad.business.uconn.edu/deadlines.
Eligibility Requirements
3.0 minimum cumulative GPA*
54 credits completed
UConn Business, STEM, or other related major
*Waives GMAT/GRE requirement (only for majors in business, engineering, economics, mathematics, or statistics). Individuals with less than a 3.0 GPA will be reviewed on a case-by-case basis.
Course Sequence
The 4+1 sequence delivers the MSFRM experience in 12 months. Students may elect to add a 9-credit optional concentration in Quantitative Methods in Risk Management², which takes an additional semester to complete.³ Students who elect to take this extra semester take 19 months to complete the program.
Fall
FNCE 5312 Financial Institutions
FNCE 5313 Financial Risk Modeling I
FNCE 5341 Financial Risk Management III – Credit Risk
Spring
FNCE 5321 Financial Risk Modeling II
FNCE 5322 Financial Risk Management I – Equity Markets
FNCE 5332 Financial Risk Management II – Fixed Income Markets
Summer
FNCE 5331 Financial Risk Modeling III
FNCE 5323 Advanced Issues and Applications in Risk Management I Seminar
FNCE 5343 Legal & Ethical Issues in Risk Management
FNCE 5344 Advanced Issues and Applications in Risk Management III Capstone
*Capstone projects are graded as part of FNCE 5344.
² 4+1 students on an F or J visa are not eligible to take the Quantitative Methods in Risk Management Concentration. These students should consider applying for the traditional, full-time MSFRM program. 
³ The optional concentration is only offered during the spring semester at the Stamford campus. 
Make an Appointment
If you would like more information or have any questions please contact: